Simply click a location to travel around the Isles of Artella Land…or scroll down to read more!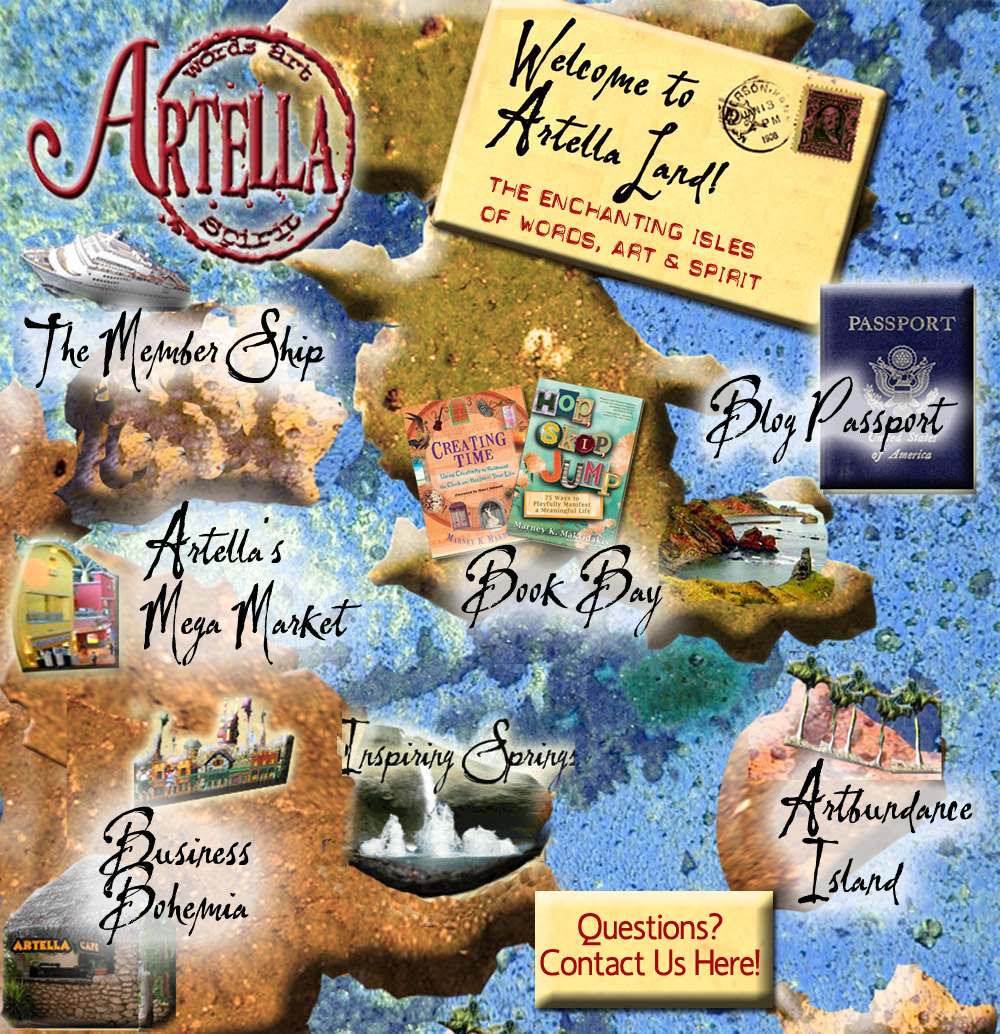 So….if you're wondering where you've landed, here is where you can learn all about the enchanting Isles of Artella Land!
Artella Land is a the groundbreaking online community for artists, writers, creative entrepreneurs. Since Marney Makridakis founded Artella Land in 2000, it has been a creative home to thousands of creative individuals whose dreams have come alive within the isles of Artella's exciting map to creative inspiration and discovery. It all began as a self-published art and literary magazine called Artella (named for "art" and "telling".) In order to pay for printing the magazine in full-color, Marney created innovative ePrograms to serve the unmet needs of creative individuals, and became a pioneer in using the internet to deliver out-of-the-box programs and services for creative people.  The formats she created became some of the prototypes for the first eProducts.
Now over two decades later, Artella has grown to be a multi-faceted company serving a creative community of thousands in many diverse and inspiring ways. Marney is a widely known voice in the creativity movement, and as a creative business consultant, she has mentored and midwifed the success of hundreds of creative business clients, ranging from inspiring start-up projects to growing the online platforms of best-selling authors, corporations, and non-profit organizations.  She currently mentors creative entrepreneurs (and those who would like be) and authors.

Marney Makridakis loves to create wonderful, whimsical worlds and invite others to play in them…

The Artellagram is published periodically, and includes free goodies, Artella announcements and colorful, quirky droplets of whimsy from Marney. Sign up for the Artellagram  here:
In addition to mentoring hundreds of small business owners, publishing Artella magazine, training ACT Coaches, and authoring hundreds of online workshops and courses, her first books, Creating Time: Using Creativity to Reinvent the Clock and Reclaim Your Life, was published by New World Library in 2012, and hit #1 on Amazon's bestseller lists in several categories. Her newest book, Hop, Skip, Jump: 75 Ways to Playfully Manifest a Meaningful Life, hit bookshelves November 2014, again hitting several bestseller lists as soon as it was released. Click here for info about HOP, SKIP, JUMP!
Marney is also the founder of the ARTbundance approach to self-discovery through creativity. Since 2009, the ARTbundance Certification Training Program (ACT) has trained over 400 coaches and practitioners in her techniques, and is the result of her deep desire to help creatively minded people design a successful business rooted in true passion, personal joy, and creative meaning.
A graduate of Duke University, Marney playfully hops, skips, and jumps in Dallas, Texas, with her wonderful husband and their wise and adventurous son, Kai. Her family opened and operates Read Play Love, a non-profit family arts and nature center.  A new musical that she co-wrote with her husband Tony, "The Whimsical World of Sherlock Holmes", made its New York premiere as part of the Broadway Bound Theatre Festival in September 2021, and was nominated for 5 BroadwayWorld Awards, including Best New Off-Broadway Musical.
She names these things as being essential to her creative well-being: the color orange, poetic novels, singing loudly, daily naps, sunflowers, the love of a good man, and hero worship of Mary Poppins.